National Advanced Manufacturing Centre Limerick & Mid West (NAMC)
The IDA and Enterprise Ireland have identified the need to establish a national centre of excellence for manufacturing. The purpose of this National Advanced Manufacturing Centre (NAMC) is to increase collaboration between multinationals, indigenous enterprises and third level institutes.
We at Innovate Limerick are convinced that the Mid-West  is the most logical and obvious location for the proposed NAMC and we outline in the attached document our arguments in support of our claim.
Click here to read more : NAMC
Engine
Innovate Limerick offices have moved to Upper Cecil Street following the recent purchase of the former Dominican Biblical Centre. This premises will be home to:
Shared office space and innovation campus
Fast landing space for FDI's
Production and Digital Skills Academy
High end training facility and meeting rooms
---
Following the closure of Andersen Ireland in 2013 and the loss of 169 jobs, Innovate Limerick purchased the 130,000 sq.ft. building in September 2014. Renamed as RathkealeCommunity Enterprise Centre the building has been sub-divided into enterprise units ranging from 1,000 sq.ft. to 20,000 sq.ft.  The centre is currently occupied by Design Pro who have 60 staffemployed.  They have plans to lease an additional section of the building and increase their staff to approximately 150 people within three years.
Contractors have commenced building upgrade works and fire walling based on the requirements of the Fire Certificate for the remainder of the building.
---
In 2014 Innovate Limerick purchased a 30,000sq ft premises on three acres at Kantoher, Co Limerick to provide additional enterprise space to businesses in the region. Strand Foods Ltd. who process and wholesale a range of chicken products have recently relocated to this facility securing the future of twelve people who are employed in this business. The move by Strand Foods to Kantoher has provided the company with a cost effective base to grow employment further and expand their business.
---
Troy Film Studios Limerick
Innovate Limerick and Limerick City & County Council through LCO Enterprise Development Company Ltd have agreed a development partnership with Troy Studios to deliver a major film production facilities hub in Limerick.
The agreed location for the film studio is the 340,000 sq.ft 'Culture Factory' which is based at the old Dell building in Castletroy.
The concept of developing infrastructure for film production in Limerick will bring outside annual spending of approximately €80m to the local economy and it is anticipated that 750 full time equivalent jobs will be created directly from this development within three years with the potential for hundreds of indirect spin off jobs from sub-supply businesses including construction, accommodation, hospitality, IT, etc.
The film studio which is currently under construction and due for completion in July/August 2016 will not only support the creation of new jobs, the creation of new businesses, but will lead to the creation of a completely new industry in Limerick and the Mid West.
---
International Cluster conference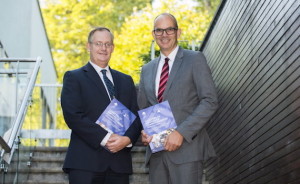 The third international cluster conference titled "Clusters as Drivers of Competitiveness" which was hosted between Innovate Limerick and PST-FR Fribourg, Switzerland was held in Limerick on 30th September – 1st October 2015. Over two hundred delegates from around the world attended this two day event with key international speakers and cluster experts from a range of disciplines such as Dr Christian Ketels of Harvard Business School.
---
National Sports Cluster
Innovate Limerick are promoting the establishment of a National Sports Business Cluster based in Limerick. The cluster will be formed from various elite sporting facilities including UL's sports campus, LIT's Sportslab (Europe's leading strength and conditioning centre) in Thurles and a range of companies involved in other sports-related activities, from sports tech to nutrition companies in Ireland.
'There has been quite an amount of research into clusters and their benefits but there is very strong evidence that regions with formal clusters tend to do a lot better than those without established clusters' – DR PHILIPPE GUGLER, UNIVERISTY OF FRIBOURG
Key objectives include attracting multinational investment, growing start-ups, incorporating a sports industry economic strategy, establishing specialities within sports innovation and developing a sports tech lab to link third level and industry. It is anticipated that up to five hundred jobs could be created in associated companies as a direct result of opportunities identified by the establishment of a National Sports Cluster.
---
ISAX
Innovate Limerick through Limerick City and County Council is one of the founding partners of ISAX - Ireland Smart Ageing Exchange.
ISAX is an independent partnership of government agencies, research institutions and industry – collaborating to identify and bring to market innovations that can enhance the quality of life and extend the independence of older adults. It currently has 18 members including Limerick Local Authority, UL and LIT as well as companies such as An Post, Glanbia, AIB, Bank of Ireland, IBM (who are supporting the Limerick Active and Healthy Ageing City initiative).  Limerick is actively involved in a number of their projects which have the potential to deliver strong social benefits to older adults and their families here in Limerick. Probably most importantly include:
The national Taskforce on Housing for an Ageing Population, which is seeking to develop innovative approaches to providing housing with care in clustered settings.
Start Your Own Businesses for older adults and will be encouraging them to look at business opportunities in the 'smart ageing' field.
Design Symposium on Age Friendly Environments – which will be held here in Limerick in June and will bring together older adults, planners, engineers, marketing experts – all focused on developing improvements to our city and how to make it more age friendly.