* DCC Manager Job Opportunity*
The ideal candidate should have experience in business development, as well as a strong understanding of - and passion for - the digital industry and building innovation eco - systems.
For full job description please click on advert below:

ENGINE
ENGINE is located in the Georgian Innovation District, Upper Cecil Street, Limerick and has been established to drive innovation forward in Limerick city and county. ENGINE provides both entrepreneurs and companies with the appropriate facilities to match their needs. ENGINE is home to tech companies WordPress WP Engine and Teamwork. ENGINE's design encourages cross-collaboration amongst teams and sparks creativity and innovation.
On the ground floor, ENGINE features the Training Room, with high-tech audio visual equipment, and the co-working office space with hot desk facilities for new business development.  The ground floor also allows access to the ENGINE Kitchen and the garden.
The first floor of the building consists of an open plan office space which is currently home to the Innovate Limerick team including Film in Limerick, the Mid West Action Plan for Jobs Manager, the Regional Technology Manager and the Regional Skills Co-ordinator. This is a one-stop for employment, training and skills solutions across all sectors, particularly focusing on regeneration areas.
ENGINE is a ready-made solution for entrepreneurs and business who require Fibre Broadband, Fixed Office Spaces or Hot Desking and Swing Spaces or access to Training, Meeting and Boardrooms. ENGINE also acts as a meeting point for multinationals to engage with local enterprise solutions providers.
The training facilities at ENGINE were developed to create a supply of skills across a range of sectors. For example, to meet the needs of the international film sector following the location of international film studios Troy Studios in Castletroy, Limerick. The Production and Digital Skills Academy provides training tailored to the skills need of the sector by partnering with the film and technology sectors. These carefully designed training programmes maximise employment opportunities for participants.
ENGINE was officially opened on 29 January 2018 by Mr. Eoghan Murphy, T.D, Minister for Housing, Planning and Local Government.
Mayor of the City and County of Limerick, Cllr Stephen Keary, said: "What strikes me about ENGINE is the positivity which flows through the building. Nothing seems to be too difficult or insurmountable.  ENGINE, which has been funded by the Department of Housing, Planning and Local Government through the economic pillar of Limerick Regeneration, is being run by Innovate Limerick and listens to the needs of community and entrepreneurs all the way up to international businesses."
On the official opening of ENGINE, Minister Eoghan Murphy said "I commend Innovate Limerick and Troy Studios on the fantastic progress that has been made in this important economic regeneration project. ENGINE can be a catalyst for the future economic development of the city and region."
Mike Cantwell, Head of Innovate Limerick, stated "Engine will drive and facilitate creativity in a range of sectors including Digital Skills and Film. It will act as a catalyst in regenerating the Georgian Innovation District and reach out to communities in surrounding regeneration areas and beyond."
---
National Advanced Manufacturing Centre Limerick & Mid West (NAMC)
The IDA and Enterprise Ireland have identified the need to establish a national centre of excellence for manufacturing. The purpose of this National Advanced Manufacturing Centre (NAMC) is to increase collaboration between multinationals, indigenous enterprises and third level institutes. We at Innovate Limerick know that the Mid-West is the most logical and obvious location for the proposed NAMC and we outline in the attached document our arguments in support of our claim. Click here to read more : NAMC
---
Following the closure of Andersen Ireland in 2013 and the loss of 169 jobs, Innovate Limerick purchased the 130,000 sq.ft. building in September 2014. Renamed as Rathkeale Community Enterprise Centre the building has been sub-divided into enterprise units ranging from 1,000 sq.ft. to 20,000 sq.ft.  The centre is currently occupied by Design Pro who have 60 staff employed. Light industrial units are available to rent at this facility for more information click here; https://www.myhome.ie/commercial/brochure/n21-enterprise-park-rathkeale-limerick/4092995
---
Kantoher
In 2014 Innovate Limerick purchased a 30,000sq ft premises on three acres at Kantoher, Co Limerick to provide additional enterprise space to businesses of the region.
Strand Foods Ltd. who process and wholesale a range of chicken products have recently relocated to this facility securing the future of twelve people who are employed in this business. The move by Strand Foods to Kantoher has provided the company with a cost effective base to grow employment further and expand their business.
---
Abbeyfeale
Innovate Limerick, the innovation arm of Limerick City and County Council, is to create an E-Hub in Abbeyfeale following the successful purchase of the former bank building in the West Limerick town.
ENGINE E-Hub, located at Provincial House on Main Street, will become a central community space and will include high speed broadband, fit out of a co-working space, meeting rooms and a training room to facilitate business start-ups and training.
---
Troy Film Studios Limerick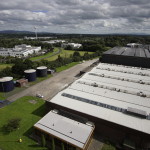 Innovate Limerick and Limerick City & County Council through LCO Enterprise Development Company Ltd have agreed to a development partnership with Troy Studios to deliver a major film production facilities hub in Limerick. The location for the film studio is the 340,000 sq.ft 'Culture Factory' which is based at the old Dell building in Castletroy. The concept of developing infrastructure for film production in Limerick will bring outside annual spending of approximately €80m to the local economy and it is anticipated that 750 full-time equivalent jobs will be created directly from this development within three years with the potential for hundreds of indirect spin-off jobs from sub-supply businesses including construction, accommodation, hospitality, IT, etc.
Keep up to date with Troy Film Studios via their website.
---
---